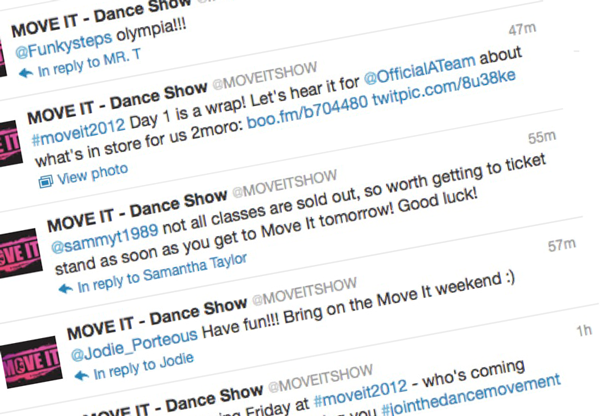 We helped Move It Show develop and put into practice a social media plan designed to let audiences know about the "2012 edition of Move It – Dance Show" at Olympia, London.
Stepping in 3 months before day 1 of the show, we created a social media calendar and a content plan for each monthly period. We also helped the in-house team increase Move It's level of engagement on Twitter and Facebook by showing them the dos and don'ts and issuing best practice guidelines.
On opening day we took over the @MOVEITSHOW Twitter account and reported to Move It's 4,000 followers on the event. This included on site interviews with dance world celebrities, posting mixed media and interacting with the show's audience. Followers were encouraged to use the hashtag #moveit2012.
Services used
Social Media Strategy / Training /  Tweeting a Special Event