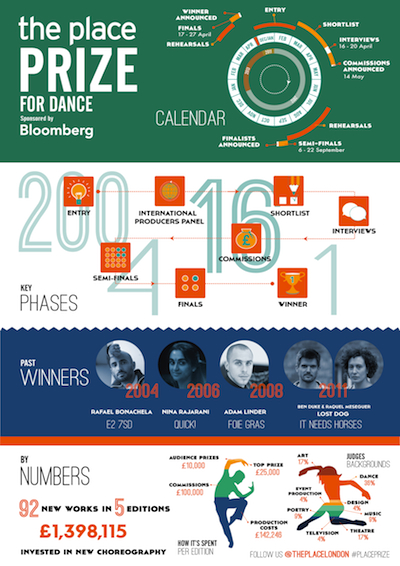 We were asked by contemporary dance house The Place to produce an infographic about the Place Prize, the UK's biggest and most prestigious dance competition. Currently on its fifth edition, the Prize has featured a total of 92 original dance works, making it the single biggest source of new contemporary choreography in the UK.
Our brief consisted of helping new audiences visualise The Place Prize via key data broken down into structure, phases and other important features of the competition (see right).
For the same client, we have also charted the history of contemporary dance platform Resolution! This event showcases short dance works by emerging choreographers and includes "the surprising, the intriguing, the infuriating and the plain baffling". The young, fresh ethos of Resolution! was integrated into the colourful design and our client, The Place, made the infographic available for audiences to download.
Services used
Content Production / Multimedia Content (Infographics)